HVAC

Since 1965, Joe Behr Plumbing and Heating is the go-to company for all your HVAC services and repair needs. Specializing in heating, cooling, home performance, and air ducts, Joe Behr is your one-stop solution for all your home's HVAC repairs and requirements. Our long-standing presence in Richland County is due to our commitment to providing swift and affordable services while prioritizing our customers' needs.
Our HVAC contractors aim to ensure that you call us back every time you encounter an issue. Whether it's a new installation, repair, or replacement, Joe Behr is here for you. Contact us to get started on your next HVAC repair or installation!
HVAC Repair & Services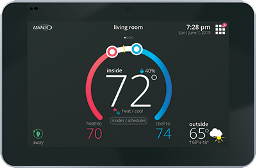 Heating Repair & Installations in Mansfield, Ohio
When your home faces heating issues, it's time to call Joe Behr. Your home's heating system is crucial for keeping you and your family warm and comfortable. Don't get caught in the cold, especially during the winter months. Reach out to Joe Behr for your heating and HVAC services.
Cooling Service & Air Conditioning Repair in Mansfield, Ohio
As the warmer months approach in Ohio, ensure that your air conditioning is running at peak performance! We specialize in various air conditioning repairs and services, guaranteeing that you and your family stay cool and comfortable!
Home Performance
Let Joe Behr ensure that your home's HVAC system is operating at top performance! It's essential to maintain an energy-efficient home, saving energy and money while keeping your costs low and your home comfortable. For a performance check-up or new HVAC installation, contact the best at Joe Behr!
Air Ducts
The proper functioning of your home's air ducts is vital for your HVAC system. To ensure that your home is circulating the purest air possible, schedule a service repair with Joe Behr today!
Contact the Top HVAC Contractors in Mansfield, Ohio
When maintaining your home, you want a high-quality partner to ensure that your house is running at peak performance. To keep you and your family comfortable and healthy, rely on Joe Behr for the highest quality HVAC services in the Richland County, Ohio area! Contact us today to make sure that your home's HVAC is running smoothly!