HVAC

Since 1965, Joe Behr Plumbing and Heating is who you call for all of your HVAC repair and servicing needs. Specializing in heating, cooling, home performance, and air ducts, Joe Behr is your one, do-it-all call to service your home's HVAC repairs and needs. We have been able to continue servicing HVAC customers in Richland County for so long due to our promise to make sure our services are done quickly and affordably and to put the needs of our customers first.
When you call our HVAC contractors the first time, we aim to ensure you call us back every time you run into an issue. Whether you have a new install or repair, or you are in need of replacements, Joe Behr is there for you. Make sure to contact us, here, to get started on your next HVAC repair or installation!
HVAC Repair & Services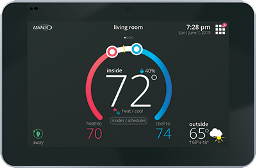 Heating Repair & Installations in Mansfield, Ohio
When your home has heating issues, it's time to call Joe Behr. Your home's heating system is integral to keeping you and your family warm and satisfied. Don't get stuck out in the cold, especially during the Winter months, make sure to contact Joe Behr with your heating and HVAC repairs.
Cooling Service & Air Conditioning Repair in Mansfield, Ohio
As the warmer months heat up in Ohio, make sure that your air conditioning is running at peak performance! We specialize in a variety of air conditioning repairs and services, making sure that you and your family stay cool and comfortable!
Home Performance
Let Joe Behr make sure that your home's HVAC system is running at top-performance! It is important that your home is energy-efficient. This will save energy and money, helping to keep your costs low and your home comfortable. For a performance check up or new HVAC installation, contact the best at Joe Behr!
Air Ducts
Making sure that your home's air ducts are functioning properly is essential to your HVAC system. To ensure that your home is cycling the purest air possible, schedule a cleaning or service repair with Joe Behr, today!
Contact the Top HVAC Contractors in Mansfield, Ohio
When maintaining your home, you want a high-quality partner to make sure that your house is running at peak performance. To keep you and your family comfortable and healthy, count on Joe Behr to provide the highest quality HVAC repair in the Richland County, Ohio area! Contact us, today, to make sure that your home's HVAC is running smoothly!