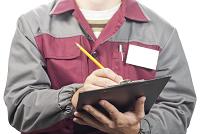 When you live in a place that experiences all four seasons the way we do here in Mid-Ohio, it's important to make sure that your HVAC (heating, ventilation and air conditioning) system is running optimally and efficiently. Our region's temperature and humidity fluctuations keep your heating and cooling system working hard year round. So the best way to ensure that its performance is top notch is to make annual HVAC maintenance a priority.

You may think your system's working just fine, and you don't need to spend any money on a preventive maintenance plan. However, there are issues that you might not notice, or that can't always be detected without a professional's trained eye, such as clogged condensate drains or faulty wiring. What may be small issues can escalate if left untreated, and you ultimately may face a system breakdown and costly repairs. In the long run, it typically is more expensive to call a service technician when you have a major problem than it is to pay for preventive maintenance.

What Can I Do Myself?

There are some steps that you can take to ensure that your HVAC system is running smoothly and efficiently, including changing your air filters regularly (at least every six to right weeks) and setting your programmable thermostat to moderate temperatures.

However, many of the annual HVAC maintenance steps require specialized tools, knowledge and safety precautions. As long as your system is in good condition, these annual visits are very affordable. Best of all, you can often choose a service plan that is customized to your family's needs for a small monthly fee. Typically, annual HVAC maintenance plans include two visits by your contractor - one in the spring for your air-conditioning system and one in the fall for your heating system.

Most annual HVAC maintenance plans include a checklist of items that your HVAC contractor will do, including:
Checking components for wear and tear
Cleaning and lubricating components, as necessary
Checking and refreshing refrigerant levels
Ensuring that thermostats are working correctly
Another benefit of performing annual HVAC maintenance is that if your HVAC equipment is functioning correctly, you should maintain healthy air quality in your home. If your HVAC equipment is not functioning correctly, you could experience leakages of contaminants in your indoor air, such as dust from your ductwork or carbon monoxide, an odorless, colorless and potentially lethal gas.

One of the best things about establishing an annual HVAC maintenance plan is that you have the opportunity to build a lasting relationship with a reliable and reputable vendor who will keep your family's comfort and safety a priority.

For more information, or to schedule your annual visit, contact the professionals at Joe Behr Heating and Plumbing, Inc. We've proudly served Mid-Ohio residential customers for more than 40 years.
Our goal is to help educate our customers about energy and home comfort issues (specific to HVAC systems). For more information about maintenance plans and other HVAC topics, visit our website.
Joe Behr Plumbing and Heating, Inc. services the Mid-Ohio area.
Photo courtesy of Shutterstock.