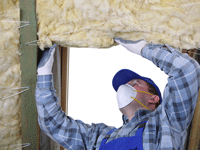 A poorly insulated attic lets warmth out in wintertime and lets heat in during summer -- which can lead you to spend more than necessary on both heating and cooling. The solution is to make sure your attic is well insulated, as attic insulation can save you as much as 20 percent on your energy bills. But before you get started, there are a few factors to consider:
Insulation's resistance to heat flow is measured as R-value. The right R-value depends on climate and which part of your home you plan to insulate.
For attics in the mid-Ohio region, look for insulation with an R-value between R-38 and R-60.
Different types of insulation are suited to different uses, and they each have different R-values. To fully insulate your attic you may need to make use of multiple types:
Roll or blanket insulation is typically made of fiberglass and comes in rolls measured to fit between wall studs and ceiling jousts. An attic with 2-by-6-foot walls can usually accommodate R-19 to R-21 roll insulation.
Rigid foam insulation is more expensive but also more efficient than fiberglass, with R-values between R-4 and R-6.5 per inch of thickness. It is often used under siding, and in buildings with space limitations.
Loose-fill insulation is typically made of loose fibers or pellets of rock wool or fiberglass. It can be blown into spaces using specialized equipment, and is a good option for areas where other insulation would be difficult to install.
Foam-in-place insulation is solidifying foam that can be blown into gaps and cracks, often around vents, door frames and windows.
There are many things to consider when you tackle an insulation job, but the benefits of attic insulation are hard to dispute. For answers to all your insulation questions, contact Joe Behr Plumbing and Heating. They have been serving the mid-Ohio area since 1965.
Our goal is to help educate our customers about energy and home comfort issues (specific to HVAC systems). For more information about attic insulation and other HVAC topics, visit our website.
Joe Behr Plumbing and Heating, Inc. services the Mid-Ohio area.
Photo courtesy of Shutterstock.