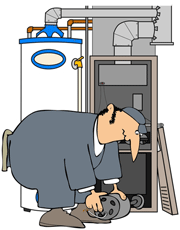 Cool, clear weather is on tap most of the year in mid-Ohio, but winter does eventually come around. When it does, you'll need your furnace in top-top shape. Here are five ways to determine if your furnace is ready to work hard for you this winter:
Look for a build up of rust or soot. Get a flashlight, tap the unit, and then watch carefully to see what breaks free from it and falls to the ground. Rust is a sign of condensation or leaks, and soot can signal a lack of air flow, or even worse, carbon monoxide or mold.
Mix dish soap with warm water, and then brush it over the furnace's joints. Leaks can be tricky to spot, especially with a gas unit. The dish-soap mixture allows you to see if bubbles appear, which can signal a leak or crack.
Check registers and vents carefully, to ensure that there are no loose screws or missing covers. These small little gaps can allow your heated air to escape, which is costly and inefficient.
Examine the floor around your home's radiators. Leaks or the wrong degree of pitch toward the return can cause cracks.
Inspect your furnace as a whole. Take a step back from noticing the details, and really look at your unit. If you see significant wear and tear, it may be time for a replacement.
Proper care of your furnace is very important to maintain your home's comfort and efficiency during the cold winter months. If any of the items that you check regarding your furnace seem problematic, or you have any other HVAC questions, contact the professionals at Joe Behr Plumbing and Heating, Inc. They have been proudly serving the Mid-Ohio area since 1965.
Our goal is to help educate our customers about energy and home comfort issues (specific to HVAC systems). For more information about furnaces and other HVAC topics, visit our website.
Joe Behr Plumbing and Heating, Inc. services the Mid-Ohio area.
Photo courtesy of Shutterstock.